Hi Friends,
Every now and then I write up a post about the Bloggers who are impressing me for various reasons.
I have to admit that since starting this Blog over a year ago, I have met some super cool people through this blogging world - my only regret, is that they do not live here in Jamaica! I find myself reading some of my fave blogger friends' blogs each time they send out a new post as I feel it is important to support by reading and staying in touch by commenting. The Blogs I follow and read all have something very special about them. It could be someone's journey to fitness, it could be a real beautiful foodie blog, it could be that I am in awe that some bloggers come out with these fantastic DIY projects over and over that just are amazing. I would like to share with them you, so that you can discover them, if you have not - and follow along.
Not sure if you have noticed a new widget on my sidebar -- but it is called
"Blog Love Course"
and that is the very e-Course from
A Beautiful Mess
that I took over a year ago that got me started on this Blog. It is actually a very creative, fun and lovely guide of how to start a Blog (if you are thinking about it), and how to create and keep consistent your postings which should relate to the name of your Blog. Also some great advice about advertising and readership. The Course was designed by the fabulous Elsie Larson (pictured above.) It is very cost effective and worth it...now you can save the PDF to your computer for reference, which I need every now and then. You can find the complete offerings of courses
right here.
A Beautiful Mess
is one of the most popular Blogs globally right now, and I refer to both Elsie and Emma (the Founders and Bloggers) as "the Martha Stewart's of a new generation." You will be inspired and surprised as to the high quality of content found at this Blog...there are fab DIY projects, recipes, cocktails, home tours, fashion and decor. They always have some exciting news to share with us - for example they came out with A Beautiful Mess App at
iTunes
not too long ago, and just published a very fabulous book -
"A Beautiful Mess Photo Idea Book
." - Keep your eyes on these ladies, as I predict a TV show next!!
This is an example of Elsie and Emma's fabulous DIY Projects. This one is
Autumn Owl Decorations,
published on the Blog today.
Postcards from Rachel
Another fave Blogger and Blog I love to keep up with, is
Postcards from Rachel.
(pictured above.) A fabulous travel Blog (always rated in the
top five Travel Blogs on Bloglovin')
Rachel keeps her posts fresh and fun. She used to live and blog from Scotland where she lived with her hubby for awhile, and now she is back in the USA and has acquired since two dogs...she still moves from State to State at times (they just moved to Boston from Florida as an example.)
Rachel apple picking in New Hampshire recently...find more posts like these over at Postcards from Rachel
Mama Laughlin
Have you heard of
Mama Laughlin
? Then it is time to find out if you have not. Mama Laughlin (Brandi) has been blogging now for a few years on her fitness journey. After giving birth to her first boy about four years ago, she started a fitness journey that has taken her to present day and after having baby #2. And wow, if you have seen her before and after pics, you will be truly inspired at the change. It is not just about her weight loss - this is more about her fitness quest and how she pushes herself to do more challenges from year to year. Last year she dreamt of running a marathon, well this year she will run one! She uses a mix of weight training (and firmly believes we ladies should be lifting more!), interval training and running. I love catching up with her from day to day to see how she is doing. She has a wonderful post today giving a rundown of a
great and effective 50 minute workout
- check it out - also check out
this post
about her general workout routine, plus a before and after picture.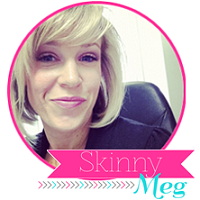 If you have heard of Mama Laughlin, then you have more than likely heard of
Skinny Meg
- who happens to be a great friend of Brandi's (ML) - and also has achieved great success with her weight loss journey and fitness quest. These ladies do not joke. I mean, they wake up before sunlight and hit the gym almost every morning for a full body workout and on the weekends they are running - I mean, just reading what they do makes me feel tired, not sure how they manage it all, but they do, and they do it very well! Skinny Meg is now pregnant (second baby) and she has not slowed down y'all! Check out her Blog
right here
.
Do you like good food? Well this is a Blog to start following!
A Cozy Kitchen
is my new "go-to" Blog for inspiring, healthy and yummy ideas for recipes. Adrianna blogs out of LA and I must say, not only is her Blog design very simple and effective, but the pictures of the food really are outstanding. So important when writing about food! There is always something unique and lovely about all the dishes Adrianna shares on her Blog, which is why I feel she is so successful. She has even written a book about pancakes!
Get More Fab Life! Follow me on
Twitter # Fab Life on Facebook # Pinterest # Instagram # Bloglovin'